Age Minimum (with Adult): 21+, Minimum Age:21+
Senior Telephone Buddies
As Miami-Dade's social distancing policies inch towards a gradual return to public congregations through a phased approach, there are many who will continue to shelter in place for the foreseeable future. For seniors in assisted living facilities, this isolation is strictly enforced due to their high-risk status for COVID-19 complications. The residents of many of these facilities have been experiencing minimal to no human contact over the past couple of months and report an increased sense of loneliness. In an effort to support the mental health wellbeing of our seniors, HandsOn Miami has initiated a campaign to engage volunteers in friendship with seniors looking for a phone buddy to share their experiences with during these trying times. Volunteers will call their assigned buddy on the day that both have indicated to be available, during one of the two 30-minute time slots: 10:30 AM and 6:30 PM.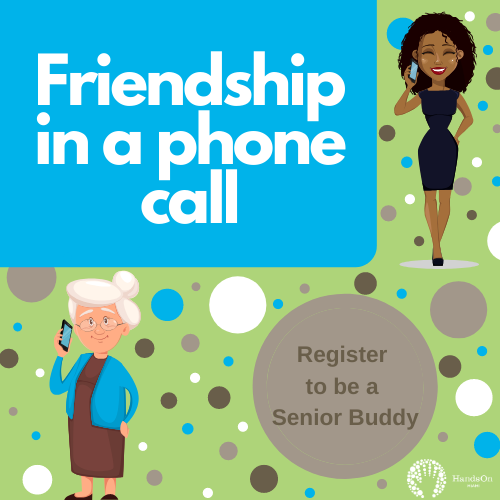 Requirements for participation:
Want to meaningfully engage in friendship with a senior

Aged 21 and up

A minimum of 1 call per week to your senior buddy, preferably on the same day of the week so your buddy knows when to expect to hear from you.
Meet the requirements? Express interest at the button below!
Please wait...
Log in or Register
In order to register for this opportunity you must log in to an existing account or register to create a new account.
Signup with team
This link allows you to participate in this opportunity with a team. When you click on the link you will have the option to:
Choose an existing team you're already a member or captain of, or
Create a new team to sign up.
Signup Questions
Please respond to the following questions in order to signup for this opportunity:
Please wait...
E-mail